Description
TeraSPEED® Single Jacket/Single Armor, Gel-Free, Outdoor Stranded Loose Tube Cable – 12 Count
CommScope all dry outside plant stranded loose tube cables deliver the same proven quality and performance offered in all CommScope cabling solutions.
The armored and all-dielectric designs are suitable for direct buried, aerial, and conduit applications. The construction features dry water-blocking elements and reduced-diameter buffer tubes, yielding a lightweight, smaller cable. The result is a fiber optic cable that is an ideal transmission medium for the outside plant environment.
These designs are available with any of the high-performance CommScope fiber types, including this cable with TeraSPEED Zero Water Peak single-mode fiber and the LazrSPEED multimode fibers. The standard jacket material is Polyethylene (PE) jacket. Additionally, the fiber and buffer tubes are color coded for easy identification.
The CommScope all dry cable construction removes the need for filling gels and flooding compounds from the cable. This significantly reduces cable preparation time and eliminates the need for solvents and other consumables during cable preparation. These cables are designed to improve the cleanliness of the work environment and provide full water-blocking protection for outside plant applications.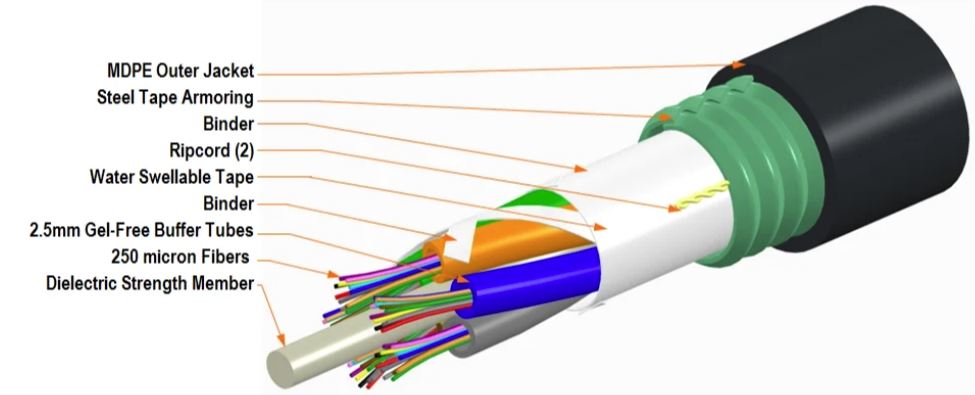 What is CommScope TeraSPEED® Zero Water Peak Single-mode Fiber Solution?
The SYSTIMAX® TeraSPEED® Solution was developed to provide fiber optic connectivity for metro/campus network backbones that is optimized for single mode applications. TeraSPEED cables provide the widest possible usable wavelength spectrum by eliminating the high loss caused by water impurities in the 1,400 nm region. With this "water peak" eliminated, the entire spectrum from 1,260 nm to 1,620 nm is available, allowing for future expansion of data rates and additional services by the use of cost-effective coarse wavelength division multiplexing (CWDM).
| | |
| --- | --- |
| Agency | Classification |
| ISO 9001:2015  | Designed, manufactured and/or distributed under this quality management system |
| ROHS | Compliant |
| CHINA-ROHS  | Below maximum concentration value |
| REACH-SVHC | Compliant as per SVHC revision on www.commscope.com/ProductCompliance |
What is G.652 Single Mode Fiber?
G.652 single-mode fiber, also known as standard single fiber, is the most commonly deployed single-mode fiber. It has G.652A, B, C, and D four variants. The G.652A and G.652B are designed to have a zero-dispersion wavelength near 1310 nm, therefore they are optimized for operation in the 1310nm band. However, they are not suitable for applications in Wavelength Division Multiplexing (WDM) due to water peak. The more advanced variants G.652C and G.652D fibers are optimized with a reduced water peak for spectrum operation, which allows them to be utilized in the wavelength region between 1310 nm and 1550 nm to support Coarse Wavelength Division Multiplexed (CWDM) transmission.