Broadband technology and broadband markets are constantly evolving. Service providers need an optical distribution network (ODN) which not only supports today's requirements for data, video and voice with QoS, SLA agreements and security, but also tomorrow's requirements.
Today bandwidth scalability from GPON (2.5 Gigabit downstream/1.25 Gigabit upstream) to XGS-PON (10 Gbps upstream and downstream) and even NGPON2 (40 Gbps upstream and downstream) services are key drivers when selecting GPON OLT and ONT products – which not only future proof your investment, but provide a quick ROI.
---
DZS' MXK-F and V-series OLTs support GPON and XGS-PON (and NGPON2) in the same modular chassis and on the same ODN, providing an easy migration path to 10G services. With a complementary portfolio of ONTs, DZS provides a complete fiber to the home or business solution.
DZS' OLTs scale from 512 subscribers in a price conscious MXK-F108 fixed interface GPON OLT up to over 32 thousand subscribers in the High Density, High Performance Modular PON/Active Ethernet OLT MXK-F1421 Chassis.
For any size network there are options which provide good price points with room to grow across the capacity and throughput range. Add either low cost or high capacity ONTs with a large combination of interface options and DZS provides network solutions to fit your network's FTTx needs.
DZS OLT options can be installed in Central Data Centers or remote field cabinets to provide Gigabit Broadband Internet Services to rural customers. There are also a complementary set of ONUs, which transform fiber to copper for solutions where G.fast, VDSL (up to 35B) or other CO, cabinet or closet based DSLAMs will take advantage of existing phone lines in homes, apartments or businesses.
Learn more about the MXK-F and V-Series OLTs
---
Z-5225A – ZNID 10GS, 10Gbe NGPON/XGSPON/AE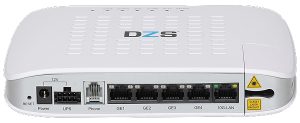 DZS' revolutionary indoor residential 5200 series 10Gbe NGPON/XGSPON/AE  ONTs are designed for advanced residential 10GbE triple-play deployments in Fiber-to-the-Home/Premise applications, and for symmetrical Business Services with MEF certification.
Learn more about the Z-5225A – ZNID 10GS
DZS offers a wide range of GPON Products and Solutions for GPON Networks ranging from OLTs that serve many thousands of customers, to WiFi enabled ONTs that reside at the residential user's home.