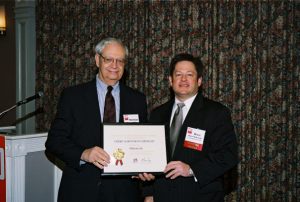 Orlando, FL –  2003 – Sherman G. Miller, President of Multicom, Inc. recently accepted the Export Achievement Certificate at the Global Business Networking Forum, in Orlando. Global Business Advisory Board (GBAB) member, Bruce Blakeman, Deputy Assistant Secretary of the U.S. Department of Commerce presented the Export Achievement Certificate to GBAB member, Mr. Miller.
The Global Business Advisory Board was established to provide education to the small and mid-sized companies and to promote programs, resources and initiatives that support international development and trade.
Celebrating its 20th anniversary, Multicom is a stocking distributor of products to build and maintain cable television systems. Headquartered in Orlando, Florida, USA, Multicom maintains sales offices, rep agencies and sub distributors throughout North and Latin America. The Design and Engineering Division designs headend and distribution systems for large and small projects. In addition, Multicom supplies high-speed Internet access equipment (CMTS and modems) plus fiber optic cable and electronics. Multicom also carries in-stock specialty wire and cable for the traffic signal, building, and airport lighting industries.