Because of the ability to maintain a high level of service quality and processing metrics for NCTC members, Multicom has been named by the NCTC Group Purchasing Organization as a "Top Performer" in order processing metrics. NCTC has distinguished Multicom for offering cutting-edge products, well-rounded content, and creative solutions that help NCTC members deliver best-in-class service to their subscribers. Read more…

Click Here to Login to Your NCTC Portal Now
---
As Featured in the NCTC Q2 2022 Supplier Connection Newsletter:
Going on a Hike? Safety Tip: Always Carry Some Fiber Optic Cable with You
Why? If you happen to get lost, you can always bury the fiber cable in the ground and be confident a backhoe will be along shortly to cut the cable. Then you can ask for directions and be on your way.
Fiber optic networks almost always have obstacles to overcome, whether it be signal strength issues, malfunctioning cable due to bad cuts or dirty ends, or simple connectivity issues.
Connected between the OLT and ONT, this 10GHz XGPON Power Meter was specifically designed for 10GHz XGPON network construction and maintenance. The voice, data & video signal (1270 / 1310 / 1490 / 1550 / 1577nm), can be measured synchronously and the corresponding optical power value can be displayed on a single all-purpose screen, with the ability to save and store test results for certification reports and work quality documentation.
Optionally, this versatile XGPON Power Meter has an embedded Fiber Inspection Module that provides a critical view of the fiber endface, eliminating problems in network traffic. Learn more…
---
As Featured in the NCTC Q1 2022 Supplier Connection Newsletter:
Multicom's Optical Transport Chassis & Modules: Create an Entire HFC Hendend in 4RU
Multicom MUL-OTC-CH-V Optical Transport Chassis provides network operators with universal HFC applications including a full-featured space-saving design with high module density, and a design optimized for easy module insertion, setup, and administration.
The 4RU module shelf, CMM Display & Control Module, and redundant Plug-in Power Modules make up the backbone of the OTC. The standard 19-inch shelf has 16 universal slots and cooling fan. The plug-in CMM Status Display & Control Module has an LCD status display and front panel pushbutton operation. Installing the Plug-in Application Modules into the shelf and putting the shelf into the cabinet creates an entire HFC headend in very little space.
Plug-in Application Modules
Depending on optical fiber network design requirements, users can select the following optional Application Modules:
Designed to optimize easy module insertion, setup, and administration, make the Multicom Optical Transport platform a key component in increased network reliability, powerful functionality, flexibility, scalability, and more cost-effective deployments.
---

Multicom is Offering DZS's "Made in the USA" GPON / XGSPON / Active Ethernet, and FTTH Starter Kits for GPON – At unprecedented introductory prices
Our New Products are Leading the Way
'Cost-Effective Quality' is the buzz-word these days and this is what Multicom's new line of fiber optic products deliver. For a comprehensive look at all of our fiber optic, CATV and network offerings.
Download our New Product Catalogs here…
---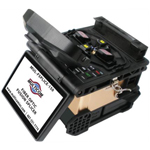 Multicom's New Fusion Splicer is Ultra-Fast, Field-Tough, and Goes Wherever You Go
The Multicom MUL-FSPLICE-300 Fiber Optic Fusion Splicer is compact in size, lightweight, and is ideal to work just about anywhere, including harsh outdoor environments and remote worksites. Learn More – and See the Video…
Multicom has added many New Products to its Family of Next-Gen Fiber Optics including a Wide Variety of Fiber Optic Tools & Test Equipment
Next Gen Fiber Optic Products – Multicom is announcing extraordinary promotional NCTC Member pricing for its next generation Fiber Optic Actives and Passives with details on the NCTC Member website and at the show. Multicom is also announcing a whole new multimode fiber optic based product line, including installation and instrumentation products: Multicom automated Fusion Splicer, OTDR, new line of Tools and Test Equipment including Fiber Optic Cleavers, Power Meters and Visual Fault Locators, and more – available now.