Description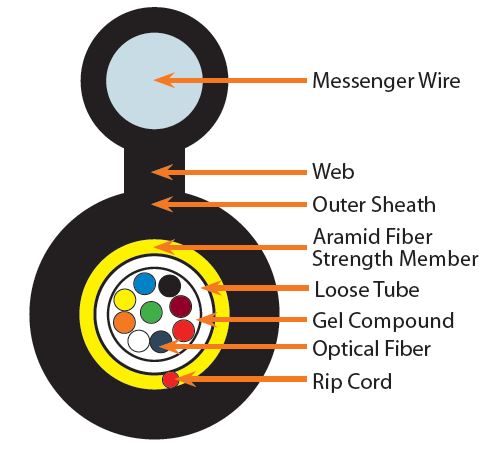 Multicom's G.652D Aerial Self Supporting Messenger Fiber Optic Cable is a self-supporting outdoor fiber optic cable with features of moisture resistance and crush resistance, suitable for aerial application. The metal supporting strength member is made up of galvanized steel wire and the jacket is made of a medium-density polyethylene (MDPE) sheath to be figure 8 in design. The fibers are surrounded by the loose tube and water blocking system. The impact structure ensures excellent mechanical and environmental performance.
Additional Benefits:
Fiber counts from 2-24 can be customized according to customer's requirements
Eliminates the need for expensive cable shielding and grounding
Uses simple attachment hardware (no preinstalled messenger)
Outstanding cable performance and stability
Applications:
Core Network, Metropolitan Area Network, and Access Network Outdoor Optical Cable
Working temperature: -40°~+70° (-40 ~ 158°F)
Bend radius: Static 12.5 times the cable diameter
25 times the optical cable diameter
What is G.652 Single Mode Fiber?
G.652 single-mode fiber, also known as standard single fiber, is the most commonly deployed single-mode fiber. It has G.652A, B, C, and D four variants. The G.652A and G.652B are designed to have a zero-dispersion wavelength near 1310 nm, therefore they are optimized for operation in the 1310nm band. However, they are not suitable for applications in Wavelength Division Multiplexing (WDM) due to water peak. The more advanced variants G.652C and G.652D fibers are optimized with a reduced water peak for spectrum operation, which allows them to be utilized in the wavelength region between 1310 nm and 1550 nm to support Coarse Wavelength Division Multiplexed (CWDM) transmission.