Description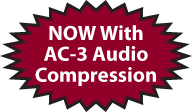 The Multicom MUL-HDENC-C-100 High Definition Agile Digital Encoder used to convert a single unencrypted HDMI input of up to 1080i/1080p into a J.83B QAM 64 / QAM 256 RF or ATSC (8VSB) output. The MUL-HDENC-C-100 is feature-rich, very flexible, powerful, user friendly, and is easy to use for both residential and commercial applications.
This compact and economical HD Encoder is also perfect for multi-video distribution solutions in institutional markets such as hotels, motels, sports bars, restaurants, hospitals, casinos, business and university campuses, and digital signage, as well as home entertainment systems. It features a front-mounted LCD display allowing easy configuration and adjustments.
Perfect for:
Resorts
RV parks
Student housing
Hospitals
Hotels
Casinos
Business and university campuses
Digital signage
MDUs
Sports bars
Fitness/Health clubs
Home entertainment systems – and more
Possible A/V sources include:
Media players
DVD/Blu-ray players
Security cameras
Computers – and more
---
For ease of configuration and adjustments, the Multicom HD Digital Encoder can be conveniently managed either locally through the LCD screen on the front panel or remotely using the intuitive web based, management system.

See the NEW Multicom – MUL-HDENC-C-200 – HD Digital Encoder – Deluxe with HDMI,

component, and composite input, J.83B QAM, ATSC, ISDB-Tb, and DVB-T user-selectable output, and Closed captioning on ATSC and J.83B QAM.
Get the Kit: Add the Multicom MUL-HDENC-SHELFKIT-1 for neatly adding your Encoders to your 19″ Rack