Description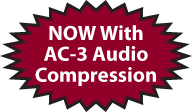 Multicom's MUL-HDENC-C-200 delivers crystal-clear digital HD video distribution over your existing coax cabling from your HDMI, component, and composite video sources. User may select output as J.83B QAM, ATSC, ISDB-Tb, or DVB-T.
This single channel J.83B QAM Encoder/Modulator unit allows you to easily distribute customized SD and Full HDTV content, up to 1080p resolution, on any of up to 134 channels – to an unlimited number of displays, using the TV's built in tuner, eliminating the need for cumbersome, expensive set-top-boxes or media players at each display.
This Encoder/Modulator is perfect for multi-video distribution in the commercial and institutional markets, and existing networks can easily and inexpensively include Full HDTV content. Regardless if you are moving HD content around a hotel, sports bar, senior living facility, convention center, student-housing complex, apartment building, stadium, or arena, the compact and economical Multicom MUL-HDENC-C-200 HD Digital Encoder has the powerful features you need.
Perfect for:
Resorts
RV parks
Student housing
Hospitals
Hotels
Casinos

Business and university campuses
Digital signage
MDUs
Sports bars
Fitness/Health clubs
Home entertainment systems – and more
Possible A/V sources include:
For easy of configuration and adjustments, the Multicom HD Digital Encoder Deluxe can be conveniently managed either locally through the LCD screen on the front panel or remotely using the intuitive web based, management system.
The Multicom MUL-HDENC-C-200 comes in the following options:
MUL-HDENC-C-200-NA – Single Channel Deluxe HD Digital Encoder Kit, HDMI/Composite/Component Input, ATSC/J.83B QAM/DVB-T/ISDB-Tb output, CC, EAS, Default USA: QAM
NEW:
MUL-HDENC-C-200-MX – Single Channel Deluxe HD Digital Encoder Kit, HDMI/Composite/Component Input, ATSC/J.83B QAM/DVB-T/ISDB-Tb output, CC, EAS, Default MEXICO: ATSC
MUL-HDENC-C-200-CO – Single Channel Deluxe HD Digital Encoder Kit, HDMI/Composite/Component Input, ATSC/J.83B QAM/DVB-T/ISDB-Tb output, CC, EAS, Default COLOMBIA: DVB-T
MUL-HDENC-C-200-LA – Single Channel Deluxe HD Digital Encoder Kit, HDMI/Composite/Component Input, ATSC/J.83B QAM/DVB-T/ISDB-Tb output, CC, EAS, Default LATIN AMERICA: ISDB-T
See the MUL-HDENC-C-200 International Spec Sheet – in Spanish
Another option, the Multicom MUL-HDENC-C-100 – HD Digital Encoder
Get the Kit: Add the Multicom MUL-HDENC-SHELFKIT-1 for neatly adding your Encoders to your 19″ Rack