Description
The tough and rugged Multicom MUL-FSPLICE-150 Core-to-Core Alignment Fiber Optic Fusion Splicer is drop/impact, dirt/dust and water resistant. Multicom is proud to provide a 2 Year USA Warranty and 1 Year International Warranty, and all USA Service and Support.
The splicer employs high-speed image processing and special positioning technology allowing the fusion splicing to be completed in as little as a FAST 8 seconds and can heat shrink in as little as an ULTRA-FAST 10 seconds. The splicer is compact in size, lightweight, and is ideal to work just about anywhere including harsh outdoor environments, dark and remote work sites.
Fully automatic, Semi-automatic and Manual Operating Modes:
Automatic detection of fiber cleaved face quality
Automatic display of cleaved fiber and the offset angles
Automatic analysis and estimation of splice loss
Automatic detection of bad/faulty splice
Automatic detailed data report record and memory storage for each splice (up to 10,000 splices)
The MUL-FSPLICE-150 Fusion Splicer Kit includes:
Additional Features to those listed above:
Automated 2N splice tension test
Handy, easy-to-carry, solid and durable with shock-resistant design
Enhanced windproof fusion area cover
5″ Color High Definition LCD and graphical interface
English, French and Spanish languages, user-selectable
Single X or Y view, or X and Y simultaneously – up to 400x magnification
High quality electrodes with up to 3,000+ splicing cycles
Easy user-replaceable electrodes design (set of spare electrodes included)
Wide range of fusion and heating parameter defaults and options
Built-in temperature, humidity, air pressure sensors and automatic arc correction
Intelligent power indicator, auto power-off and quick-change battery
Built-in heat shrink heater: Easy to use, quick, customizable parameters
Data reports can be downloaded to PC and system upgrades can be uploaded
via USB port and cable
Built-in work lights make optical-fiber placement easier and more accurate, even
at night or in dark work areas
Applications:
Singlemode: ITU-T G.652A/B/C/D and ITU-T G.657A/B
Multi-mode: ITU-T G.651)
DS – Dispersion Shift: ITU-T G.653
NZDS – Non-Zero Dispersion Shift: ITU-T G.655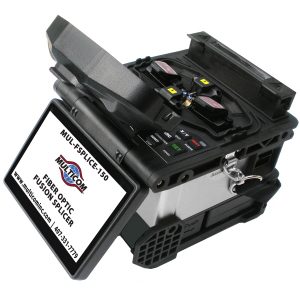 The MUL-FSPLICE-150 Fiber Optic Fusion Splicer Kit Includes:
MUL-FSPLICE-150 Fiber Optic Fusion Splicer
Quick-change rechargeable lithium battery
Universal fiber optic fiber holders
Precision Optical Fiber Cleaver
USB Thumb Drive with Operating Manual
Hardcopy of Operating Manual
Non-conductive Tweezers
3-Hole Fiber Stripper
Sheathing Stripper
Power Cord & AC Adapter
Spare Electrodes
Heat Shrink Cooling Tray
Cleaning Bulb
Heavy Duty Carrying Case with Work Shelf
Cleaning Alcohol Dispenser
---
Multicom now has three of the highest quality and lowest priced Fusion Splicers on the market today. We are so confident in our High Precision and Rugged Fusion Splicers, we have prepared the following comparisons to gain your confidence as well:
Quality Makes a Difference – Check out: Precision Multicom Products vs. 'Other'
How does the Multicom MUL-FSPLICE-200 stack-up when compared to our competitors? See the exclusive Multicom Fiber Optic Fusion Splicer Comparison Chart to see for yourself.
Want proof? See the video: