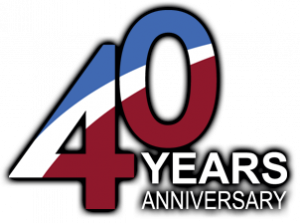 Orlando, FL – Established in 1982 and celebrating 40 years as an industry leader, Multicom is a manufacturer and full-line stocking distributor for end-to-end integration of communication solutions.
Multicom stocks over 20,000 products. The Multicom branded products are produced at Multicom factories throughout the world. Additionally, Multicom distributes the products of more than 380 of the world's other major manufacturers. These products are used to acquire, process, and distribute television, data, voice, security, and traffic control signals over fiber optic, copper, and coax cable. as a full-line wholesale manufacturer and stocking distributor of CATV, Satellite, Traffic, and VoIP system designs, products, and services.
Sherman G. Miller, Multicom's President, and CEO stated proudly, "When I started Multicom 40 years ago in my garage, my vision was to make my company grow not only in size but in the excellence of serving our customers with the latest technology at cost-effective prices and outstanding customer relations. No other industry advances faster than ours; to survive, sustain and be a leader in the industry for 40 years, you have to be smart, nimble, and evolve as the industry evolves."
"My goal," Mr. Miller continues, "Is to create a place where customers could get everything they needed, from cutting-edge products to installation and application instruction, all under one roof."
Multicom has become just that; a "One-Stop Resource Center", where customers receive all that they need to confidently take on any challenge and with the resources to complete any type of job in this industry. Multicom employees are certified and trained on current product advancements – to not only understand the functionality of the products, but their precise application, and to help customers integrate these products every step of the way to solve every networking challenge.
Throughout the years, Multicom has been recognized for its outstanding service and achievements in the industry such as:
Orlando's Top 50 Business Award
Export Achievement Certificate
Exporter of the Year Award
President's "E" Award
Broadband Properties FTTH 'Top 100' – Eight times running
Multicom continues to expand its services as well as its line of reliable, feature-rich, value-priced fiber optic and coax cable products. Multicom has grown its fiber broadband product line to include a wide variety of fiber optic tools and test equipment. The new Multicom Fusion Splicer is the fastest in the industry and has set a new standard in both quality (with a three-year warranty), and price, sending a chill through our competitors.
For more information, call 1-800-423-2594, e-mail to multicom@multicominc.com.